Mailstop Address Guide
'Mail Stop' is the official name of the delivery point where Mail Services delivers and collects mail. To get next day mail delivery to another UCSC department or office, an address must contain the Mail Stop name. Mail Services recommends that a recipient's name also be included.
Two items needed:

Name of the recipient or department
Mail Stop name
Do not use office numbers, building names, or locations; It could result in mail being delayed due to mis-routing.
How to use your Mail Stop on U.S. Postal Mail
Your Mail Stop name needs to appear on U.S. Postal mail being sent to you from off-campus. Including the Mail Stop will expedite your mail. Using the following formats in letterhead and envelopes will help your correspondents correctly address your mail.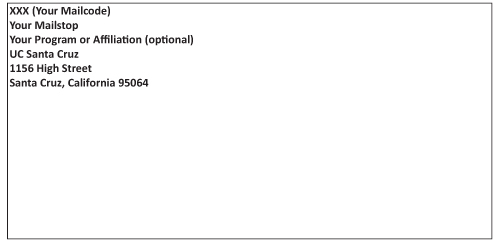 How to Obtain your Mailstop Address
If you are unsure of your Mail Stop name, please call Nico Feria at (831) 459-3169; or use our on-line Locator database.